DeFiChain app how-to.
A step-by-step guide.
Download the app
Download the latest app from the downloads page.
Minimum requirements
| Requirement | Minimum Required |
| --- | --- |
| Memory | 4GB |
| OS | macOS 10.14, Windows 10, Ubuntu LTS 18 and above |
Installing on macOS
Step 1: Installation
Open the downloaded image DeFi-Wallet-.dmg. In the Finder window that pops up, drag the DeFi Wallet on the left, on to the Applications directory shortcut on the right.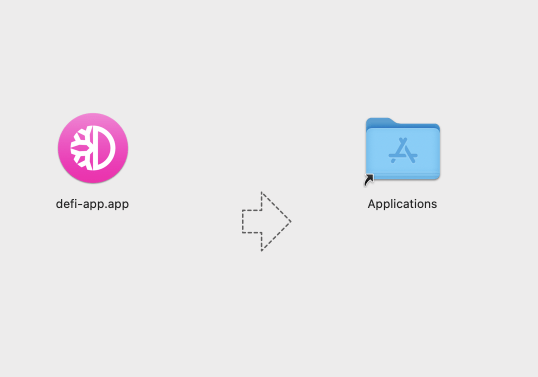 Step 2: Dealing with macOS security prompt when opening the app
Open the app. The first time you open the DeFi app, you will be presented with a security prompt. Press OK to dismiss it.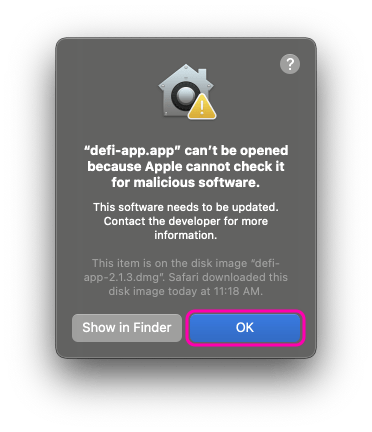 *You will see this security prompt with early unsigned releases of the app. In future releases signed with Apple, you will not see security prompts. For now, please follow step 3 for a workaround.
Step 3: Allow app execution
*Only open the app this way if you are sure you have downloaded DeFi app from an official source. DeFi app is currently only available on the official website and DeFiChain's GitHub.
Go to System Preferences and click on Security & Privacy.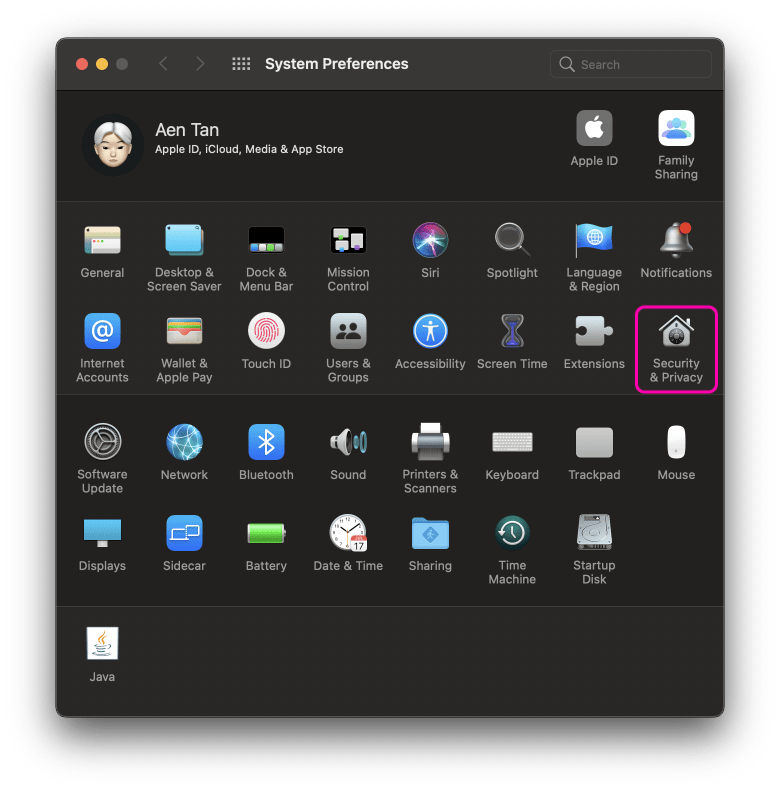 Then click on the Open Anyway.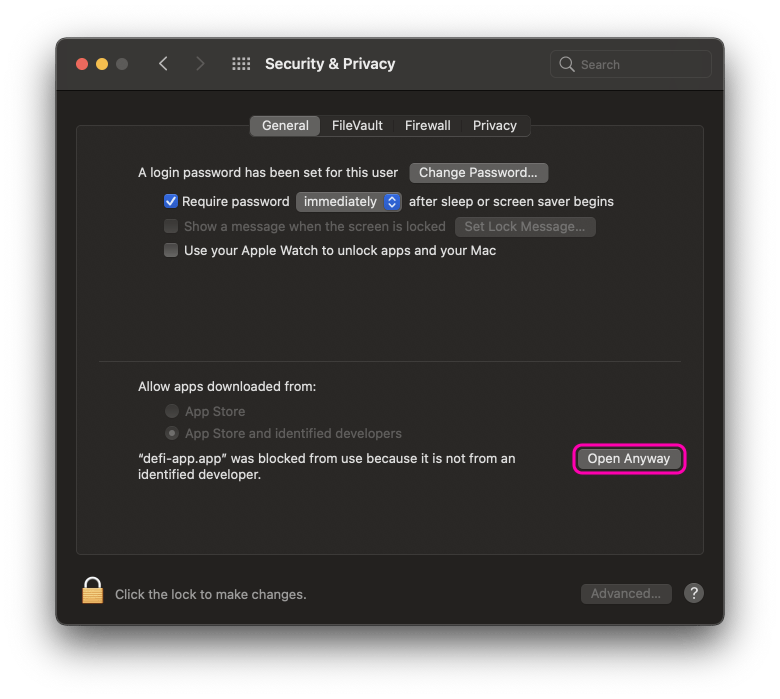 Click Open on the confirmation popup.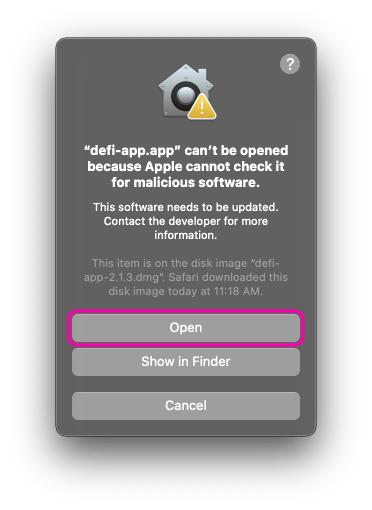 DeFi app will launch automatically when the installation is complete.
Installing on Windows
Step 1: Installation
Double click on the downloaded file.
Step 2: Windows security prompt
If this is the first time you are installing the DeFi app, the installer may present you with a security prompt as shown. Click More info.
*Microsoft Windows SmartScreen may flag newly uploaded files that have not built up a long enough history.
Step 3: Bypass Windows security prompt
Click Run anyway to begin installation.
DeFi app will launch automatically when the installation is complete.
Installing on Linux using AppImage
Please ensure you have enabled the Allow executing file as program option for the download file.
You can now open DeFi app.
Installing on Linux using Debian
You can choose to either install DeFi app as a GUI tool or command line tool.
Using Software Center
The simplest method is to use Software Center in Ubuntu. Simply navigate to the folder (usually Downloads folder) containing the downloaded .deb file and open it.
Install .deb files in command line using dpkg
If you want to install deb packages using the command line, you can use either the apt command or the dpkg command.
sudo apt install PATH_TO_DEB_FILE

or
sudo dpkg -i PATH_TO_DEB_FILE

You can now open DeFi app.
---
Using the wallet
The wallet interface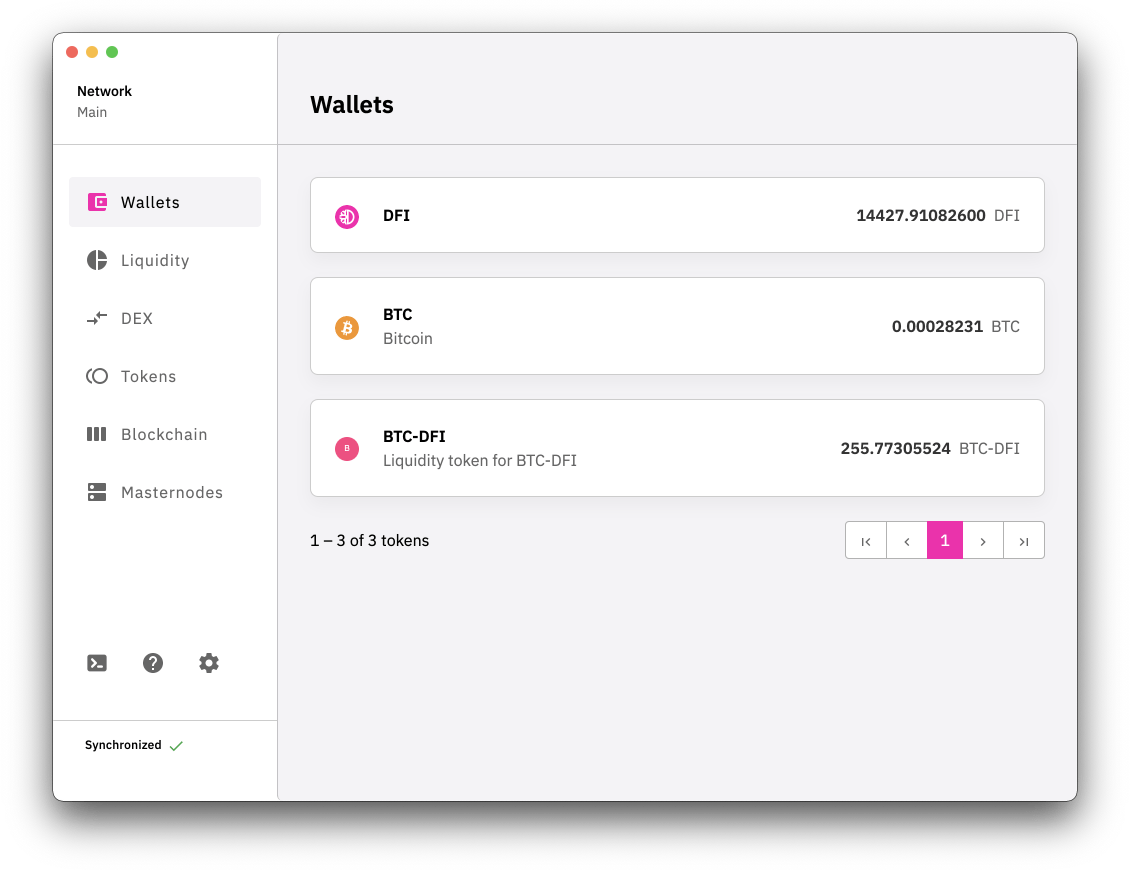 Sidebar main navigation
Wallets tab: Send and receive funds, and view transactions
Liquidity tab: Add and remove liquidity, and viewing APR of your liquidity
DEX tab: Swap between wrapped BTC/ETH/USDT and DFI
Tokens tab: View community-verified DST (DeFi Standard tokens) and create your own
Blockchain tab: A built-in mini block explorer to examine the blockchain
Masternodes tab: View a list of masternodes and create your own
Sidebar sub navigation
Console: Run DeFiChain CLI commands
Help: Help options
Settings: Switch between Main and Test net, language and other settings
Opening a wallet
Switch to the Wallets tab, choose a wallet e.g. DFI.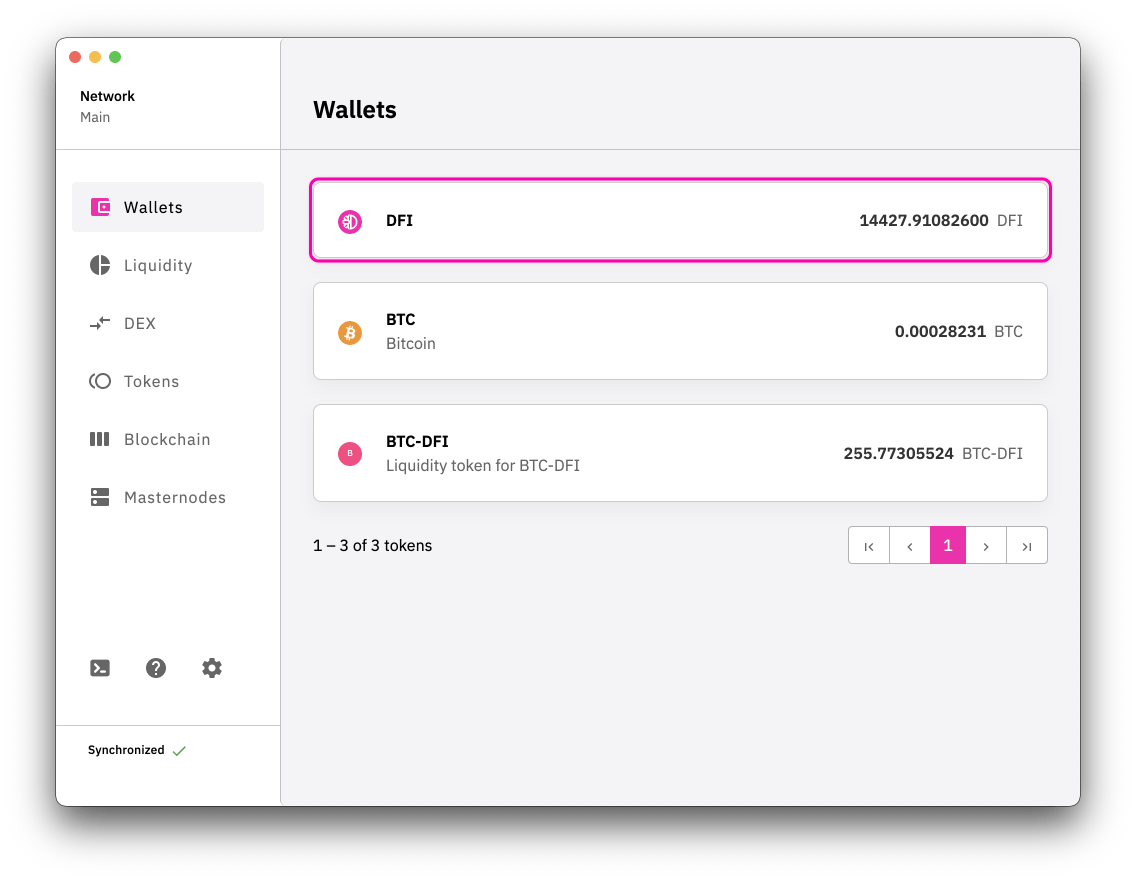 Sending funds
Step 1
Within a wallet, click on Send.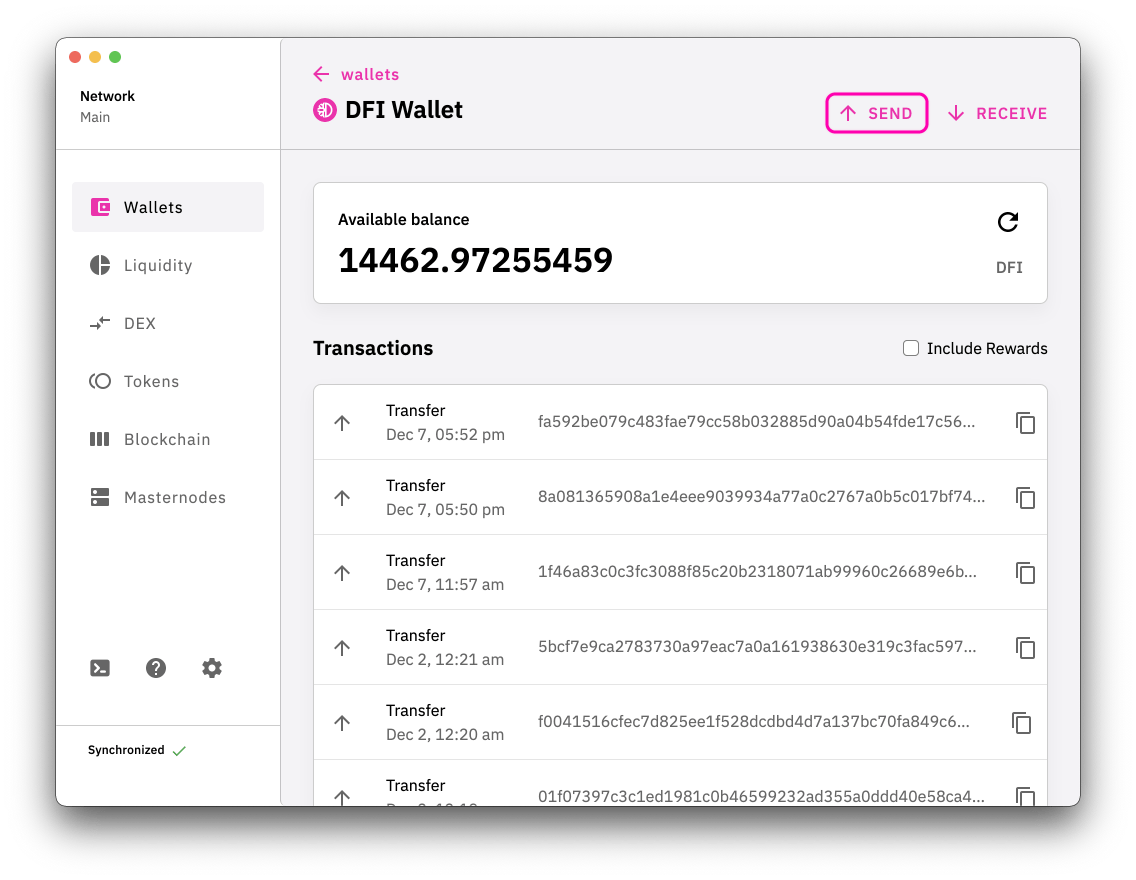 Step 2
Enter the Amount and, the To address to send to. Yu can also enter an address using QR code scanner feature next to the address field. Press CONTINUE when you are ready.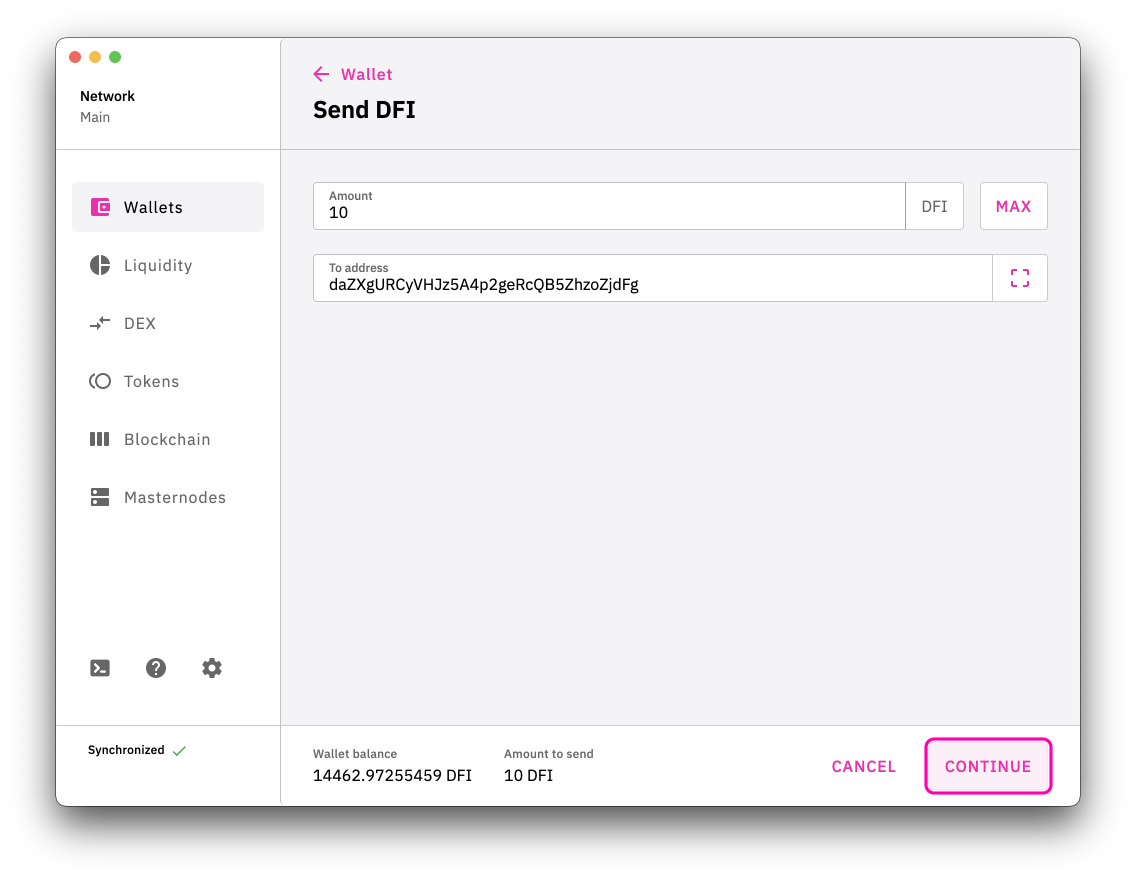 Step 3
Review the Amount and To address and verify they are correct. The COMPLETE SEND button is disabled for a few seconds to protect you from accidental sending.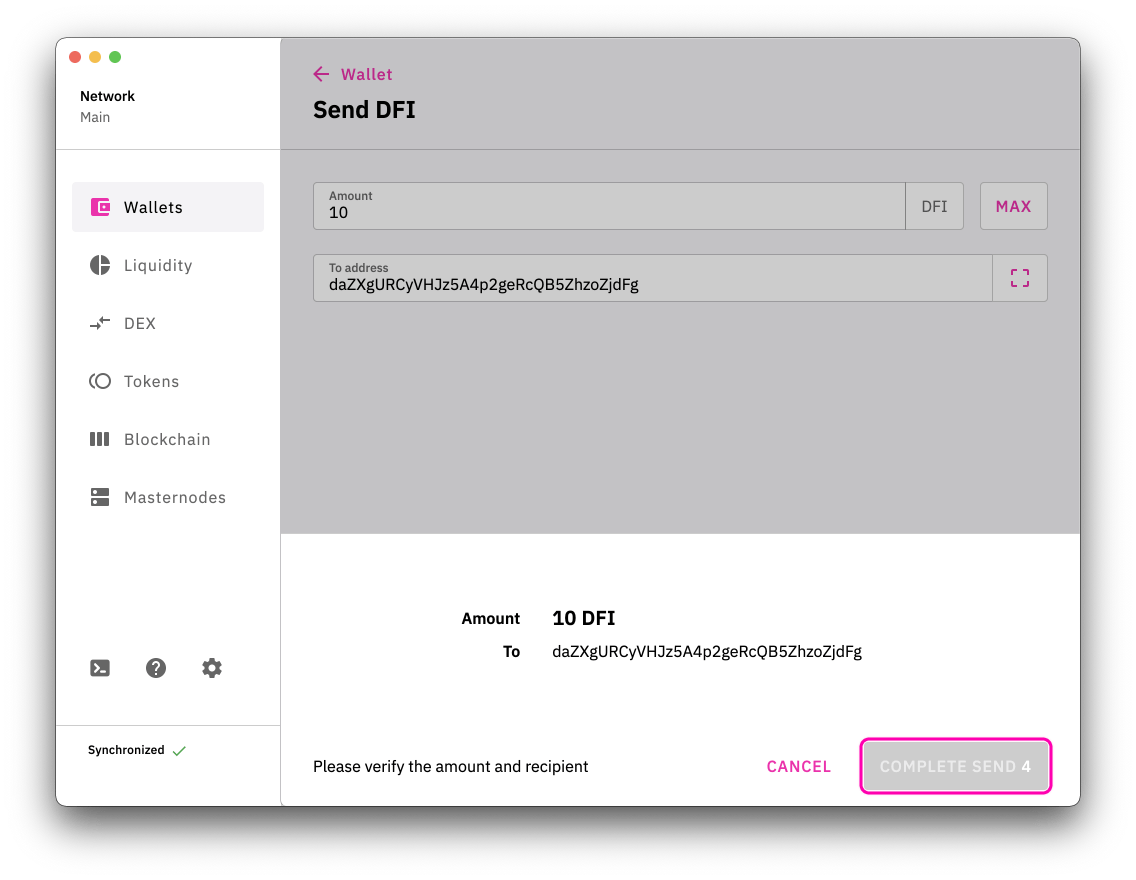 Click COMPLETE SEND to confirm sending.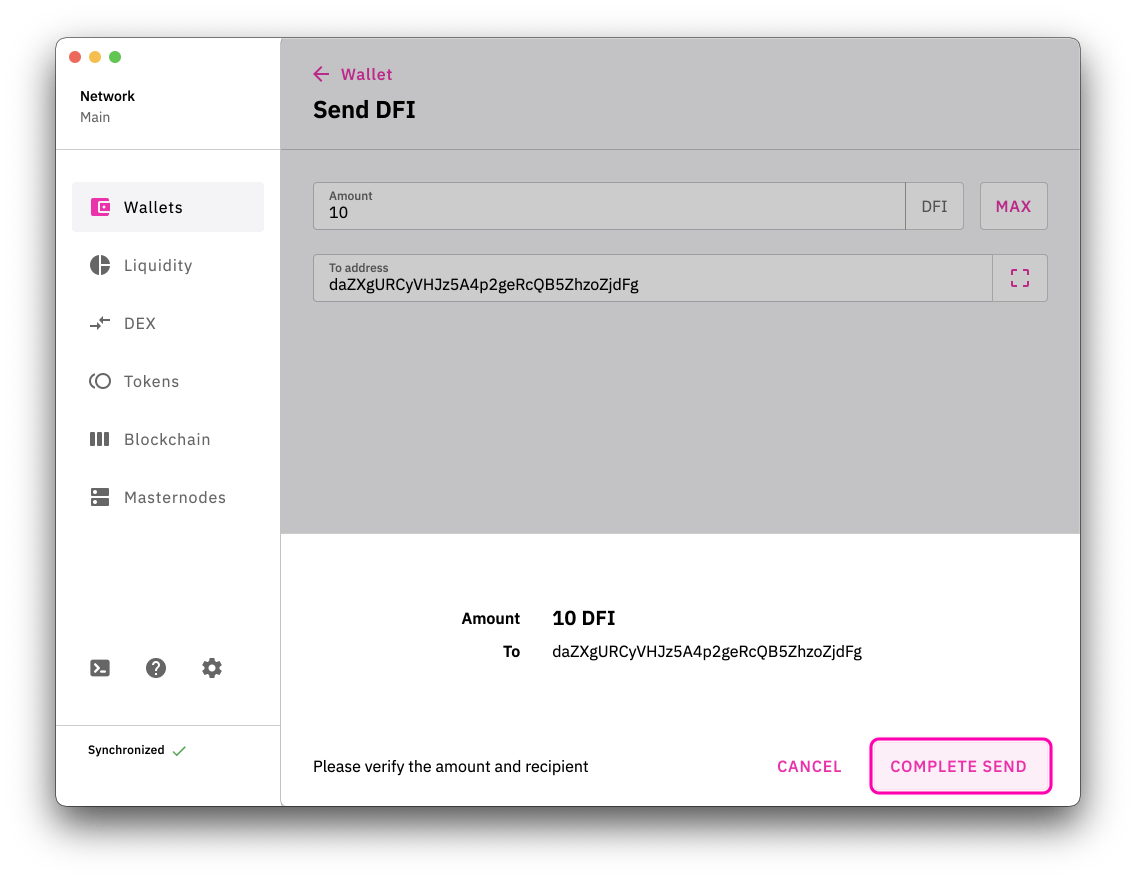 Step 4
After the transaction is complete, press BACK TO WALLET to return to the wallet.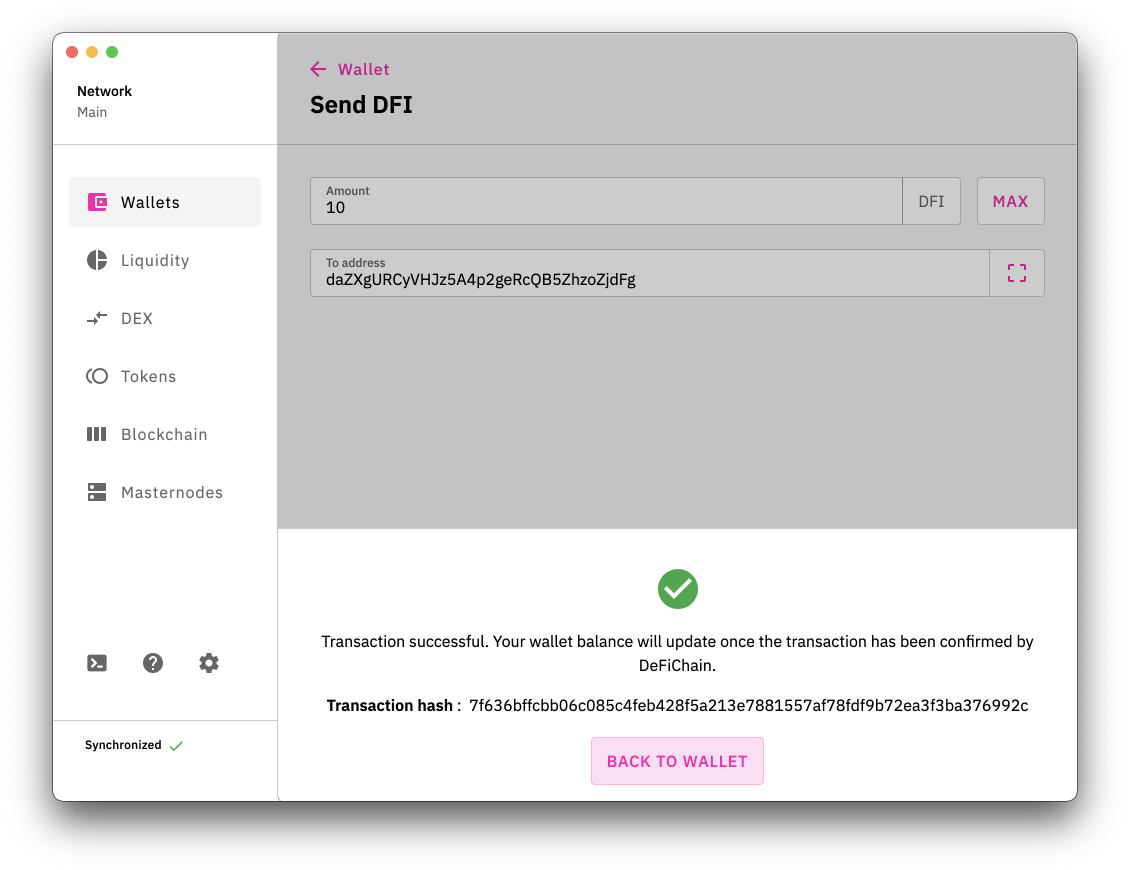 You should see your latest transaction in the list of Transactions in your wallet.
---
Receiving funds
Step 1
Within a selected wallet, click RECEIVE.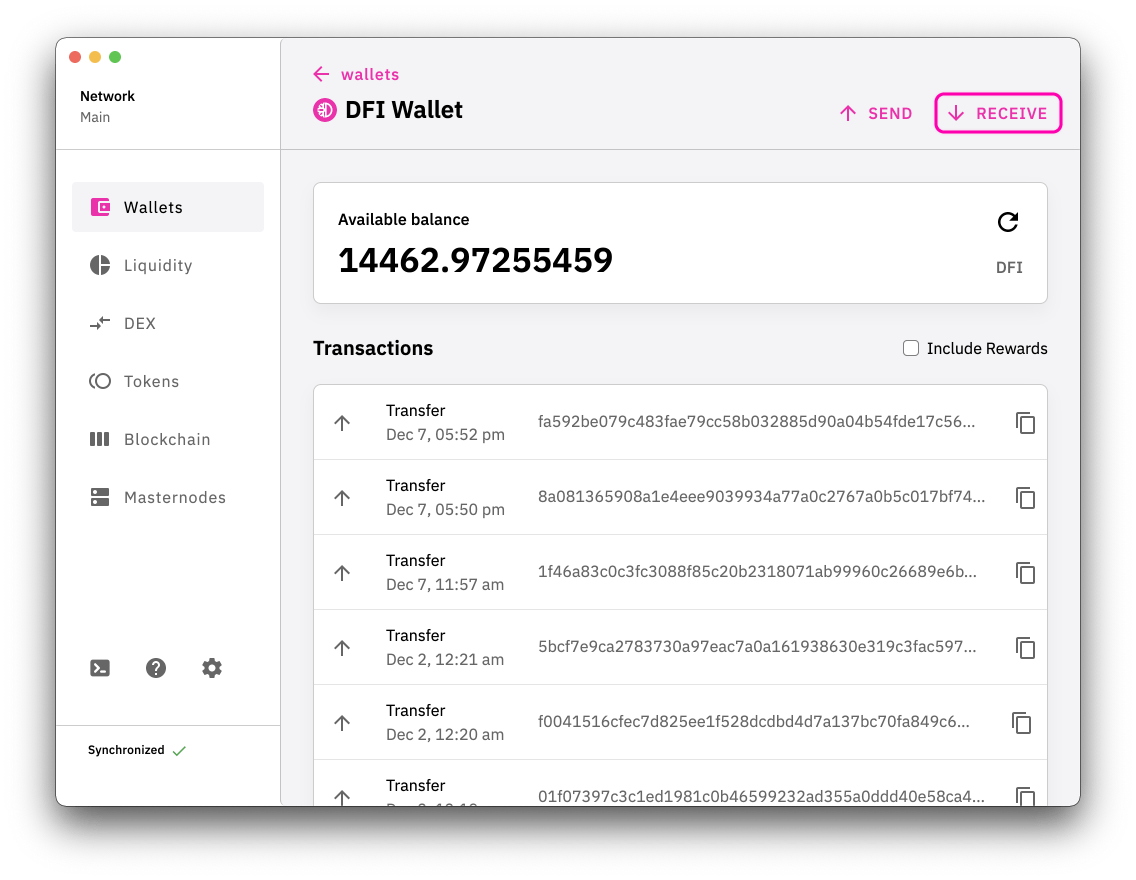 Then click NEW ADDRESS to create a new receiving address.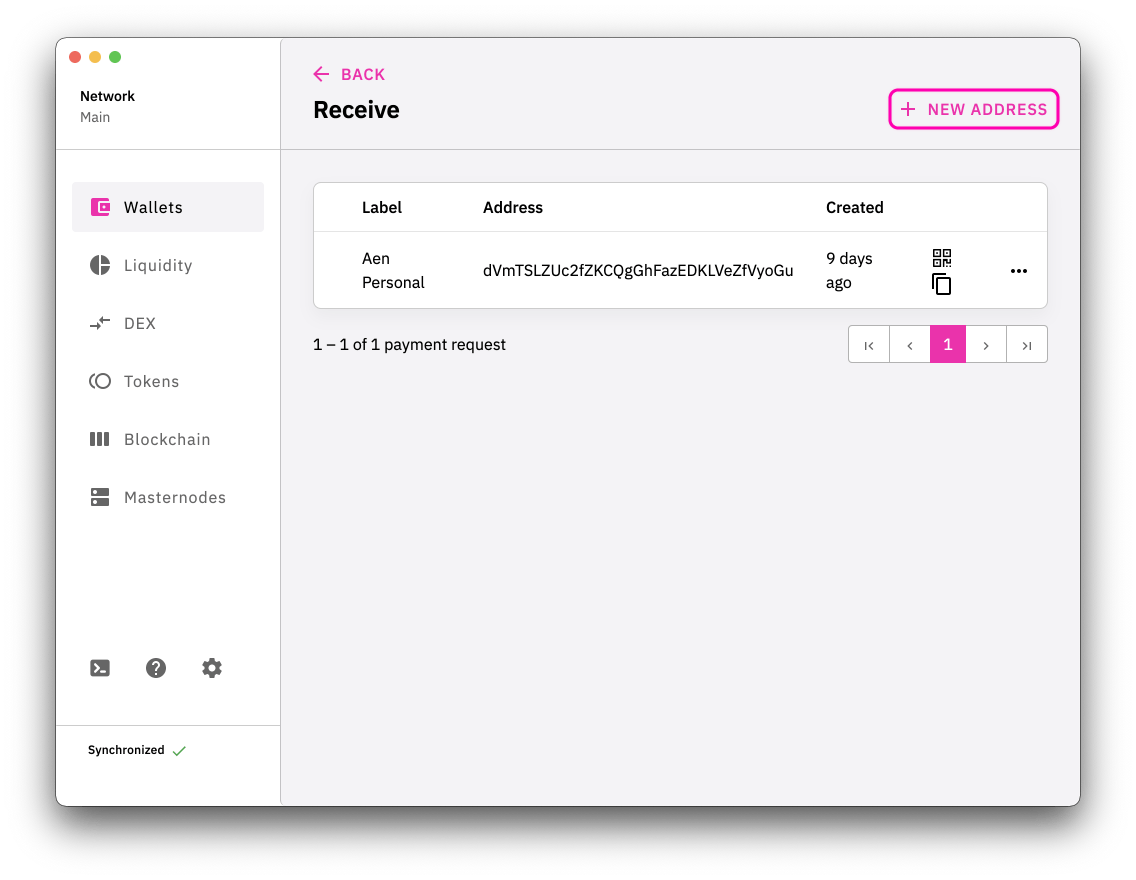 Step 2
Fill out the information and give your address a meaningful label. Then click CREATE.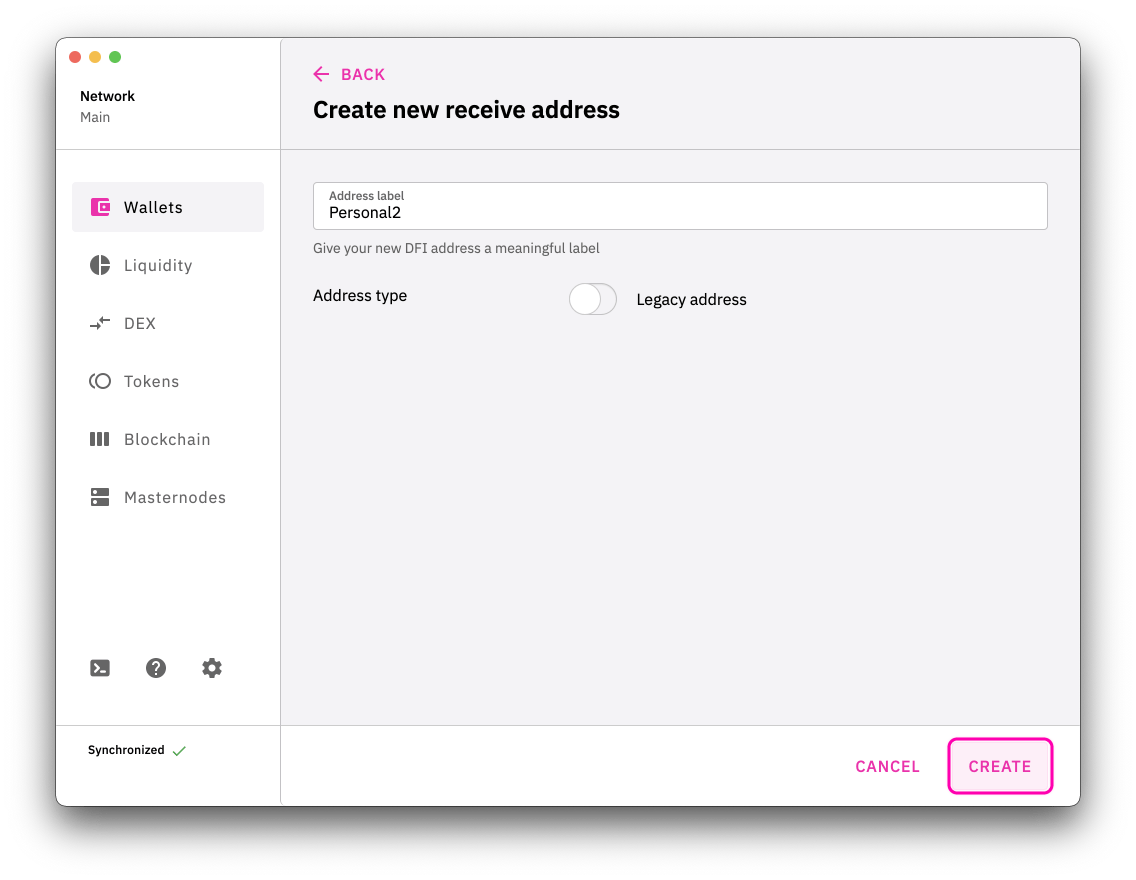 Step 3
The new receive address you have just created will appear in your list of receive addresses.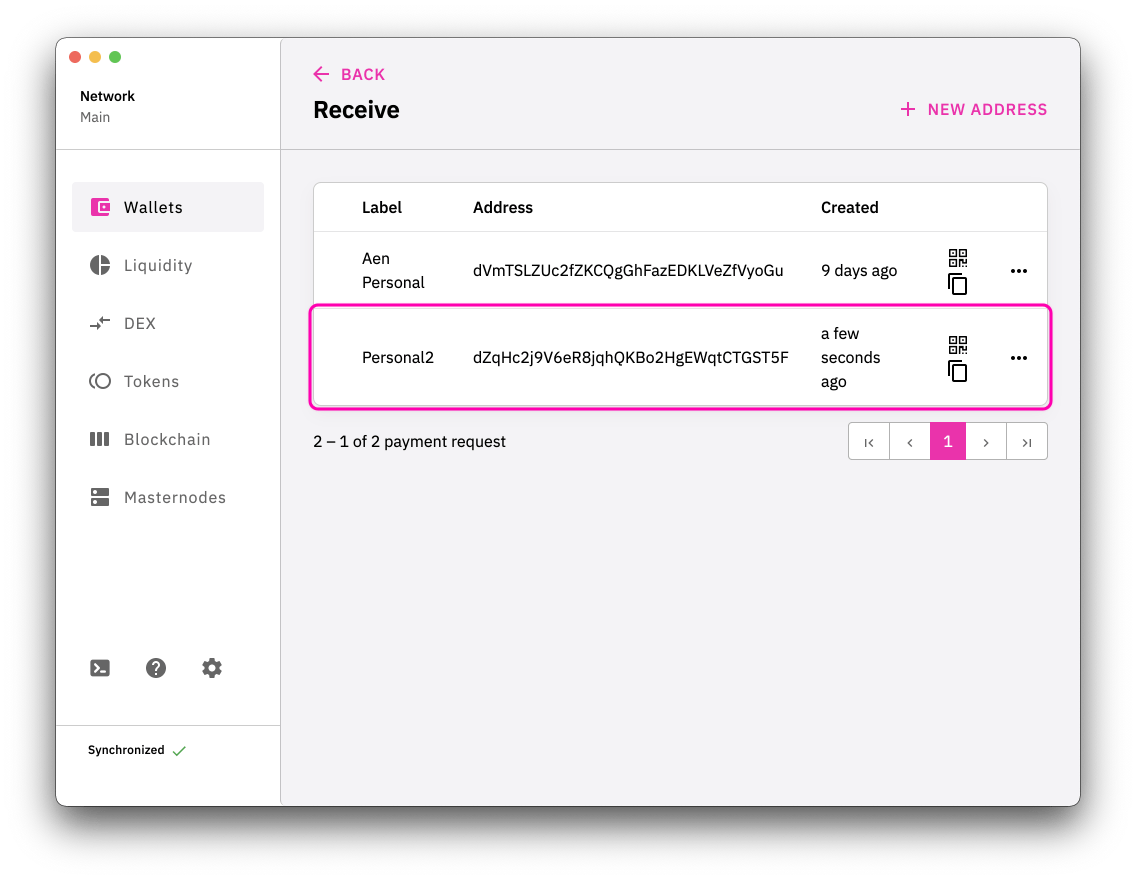 Click the QR code button to bring up a QR code of the address.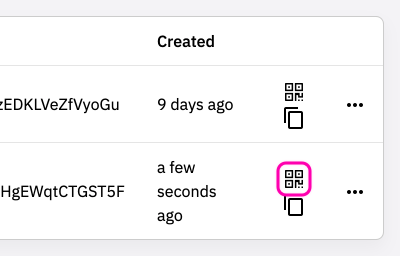 Click the copy address button to copy the address to your system clipboard.